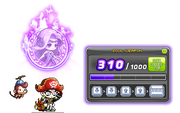 Soul Weapon is a weapon upgrade system that is available for weapons Level 75 and above. It uses Souls as materials to boost weapons' ATT, Magic ATT, bonus stats and other powerful bonuses.[1]
Description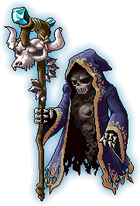 Soul Weapons are said to have been introduced by Murgoth, a Soul researcher who refined the Soul Enchanter. A Soul Enchanter is an item that has a chance to allow any weapon Level 75 and above the ability to harness the power of boss monsters.
By defeating a boss, players have a chance of obtaining one or more Soul Shards. Once 10 Soul Shards are collected from the same boss, they can be combined into a Boss Soul. All Souls have a 100% success rate of being applied to a weapon, including weapons with an existing Soul. Souls have an expiration date of 30 days.
There are different types of Soul, each offering a different specific stat boost. The strength of the boss that the Soul comes from determines the amount of the bonus stats, where weaker bosses will give fewer bonus stats than stronger bosses.
Another benefit from adding a Soul to the weapon is the unique skill that comes with it. Each boss gives a different skill, and these range from buffs, powerful attacks, to even summoning the boss to fight by the player's side for a short time. In order to use its unique skill, players have to hunt monsters and generate Soul Points for their weapon. Soul Points have a maximum value of 1000.
Magnificent Soul
Magnificent Souls are rare Souls that are more powerful than regular boss Souls. Their unique skills do more damage and have unique potentials instead of a flat stat increase. The potential that Magnificent Souls gives is random and cannot be reset. These potentials can range from +2 skill levels for all skills to +4% attack or magic attack.
Unlike regular boss Souls, Magnificent Souls are fully tradable with other players and do not expire like regular Souls.
Soul Collector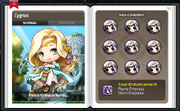 A Soul Collector Book is a book for players to store Souls for collection. Once stored in the book, the Soul is lost forever. If the player manages to store one of every type of Soul for a boss (including their Magnificent Soul, if applicable) in the book, the player can unlock that boss's second level skill through Murgoth.

List of Souls
Tier D can reach up to +15 Weapon/Magic Attack with 500/1000 Soul Gauge, while every tier above can reach up to +20.
Tier SS

Cygnus

Magnus

Murgoth*

Crimson Queen

Vellum

Lotus

Damien

Lucid

Will

Verus Hilla

Darknell



Kalos
*Can no longer be obtained, or only available via special events
References