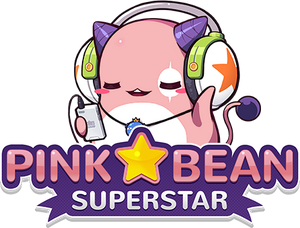 Pink Bean is the first Monster Job in MapleStory. As a temporary job, it can be created for a limited time and is deleted on the players' account once the event has ended.[2]
Pink Bean is considered a Warrior, with the main stat being STR and can wear male warrior equipment. Pink Bean does not gain SP for skills, instead they are unlocked at specific levels.[3]
Story
Pink Bean became bored in Bean World and was tricked by its rival, Black Bean, into coming to Henesys via a portal it made.[2]
Trivia
Pink Bean job was originally an April Fool joke.[4]
There are many equips, both regular and Cash, based on Pink Bean. There is also a Pink Bean pet in the Cash Shop.
Pink Bean is the eleventh class who isn't a human, first being Mercedes, and followed by Demon, Kaiser, Angelic Buster, Xenon, Zero, Cadena, Illium, and Ark .
If a player uses the playable version of Pink Bean to fight the Boss version of Pink Bean, there is some additional dialogue; when he arrives at the Forgotten Twilight map, he says, "This place looks familiar… Or is it just me?" And upon entering the Twilight of Gods map, he says, "Well, I've been here before!"
Gallery
Availability of Pink Bean/Job
References
Characters and Skills
Class
Job and Skills (Click on icon for skills)
Beginner

Beginner Link Skills

Explorers
Warrior
Magician
Bowman
Special

Pathfinder

Thief
Special

Dual Blade

Pirate
Special
Cygnus Knights

Dawn Warrior Blaze Wizard Wind Archer Night Walker Thunder Breaker

Special

Mihile

Heroes
Resistance
Demon
Nova
Flora
Sengoku
Anima
Monster

Pink Bean Yeti

Beast Tamer

Chase

Child of God

Zero

Kinesis

Kinesis

Wu Shen

Mo Xuan

Miscellaneous