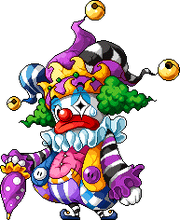 Pierre is one of the four main bosses of Root Abyss, working for Damien to restrict the World Tree's power. He is the second boss Alicia requests to defeat.
His FriendStory counterpart is a part of Damien's band, where he plays the Guitar.
Gallery
Trivia
Pierre is based on the Mad Hatter from the Alice series by Lewis Carroll.