You & I (KR:유앤아이 romaja: Yuaenai) (or Rising Heroes in GMS) is a MapleStory patch that involves revamps to combat; the Hero class Shade; and a new dungeon called The Seed.
Part 1: Origin
Maple Tutorial added. Displays recommended quests, training areas, and content in relation to the player's level. Only for players between levels 10 ~ 140.
Equipment scroll upgrade can now be performed with Spell Traces.
Training/Hunting:

All maps now have party play bonus.
Monsters have increased health and experience.
Player damage is now affected by their level difference to the monster.
Combo-Kill and Multi-Kill: Consecutive monster kills and killing multiple monsters simultaneously, respectively, grants bonus experience.
Runes may in field maps. Activating the rune via input command (direction keys) grants a buff to the user.
Killing many monsters in the same map may spawn an Elite Monster, a larger and more powerful variant of the normal monster.

Killing more monsters may spawn an Elite Boss, a unique enemy that despawns all monsters on the map and is accompanied by two Elite Monsters. Killing an Elite Boss will rain various items on the map.

Invincibility duration upon being hit was decreased.

Friends List:

UI has been simplified.
A buddy can now be set as an account buddy, who will appear on any character in an account. 
There is an option for logging in that prevents buddies from seeing the player login.

Animations:

Optional cascading damage effect.
New level up animation.

Equipment:

Certain equipment under level 100 now have set effects.
Equipment drop rate was decreased.
Identify potential fee was decreased.
Potential items that are dropped will have an effect that is colored, based on its rank of potential.

Other:

Most instant-KO skills success rates were lowered.
Victoria Island's taxi is now free.
Consumable boxes and items that could not previously be placed on the keyboard can now be placed on the keyboard. This includes event boxes and Honor Badges. 
Zakum Party Quest is no longer mandatory to complete to fight Zakum.
Honor level was removed. Honor Experience is now used to reset Inner Ability.
Many Theme Dungeons, towns, and some dungeons were temporarily closed.
Party quest levels were adjusted.
Part 2: The Forgotten Hero Shade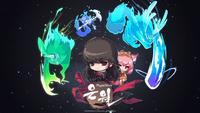 Part 3: The Seed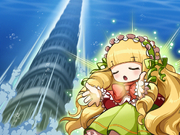 Gallery
Trivia
References
↑

'The Seed' is included in the first part of the update 'Origin'.
Major Updates
Year
Title
2010
2011

Jump! (March) Legends (July) Advance of the Union (October) Justice (December)

2012
Exclusive

Mark of Honor (July)

2013

Cygnus Returns (January) RED (July) FLY (September) You & I (December)


Exclusive
2014

Coordinator's Touch: Star Force (July) Maple Ice & Burn (December)

2015

Giseungjeon12 (February) Reboot (June) Heroes of Maple (November)

2016
2017
2018

Black Mage (June) Adventure (December)

2019
2020
2021

Maple Live (June)

Mainly based on Korean MapleStory timeline and title