Unlimited (KR:언리미티드 romaja: Eollimitideu) is a four-part update following Tempest, and before Cygnus Returns containing Demon Avenger, Xenon, Monster Life, and Root Abyss.
Part 1 : Enjoy Infinite Items!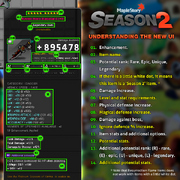 The drop rate of all equipment has been increased from 5 to 10 times its regular rate, and its potential has a greater chance to be a rank higher than Rare.
Many equipment were given Additional Options, further increasing the stats of the item.
The tooltip for equipment is replaced with a sleek new one.
The maximum damage range was increased from 999,999 to 2,000,000, damage cap from 999,999 to 50,000,000, and maximum HP and MP from 99,999 to 500,000, but the maximum evasion rate has been decreased to 90%.
Part 2 : Demon Avenger
Strewn with intense, fluctuating charisma! Feel the true power of the Demon!
New Path: Demon Avenger
The tooltips are replaced with the sleek one, similar to the tooltip for equipment.
Part 3 : Xenon
The one with a sad fate, the perfect one to battle at the final stage!
New Job: Xenon
Maple Points are able to be purchased with mesos
Bits system added, where players can collect Bits to receive set effects.
Part 4 : Monster Life
Gallery
Availability of MapleStory: Unlimited
References
Major Updates

Year
Title
2010
2011

Jump! (March) Legends (July) Advance of the Union (October) Justice (December)

2012

Tempest (July) Unlimited (December)

Exclusive

Mark of Honor (July)

2013

Cygnus Returns (January) RED (July) FLY (September) You & I (December)


Exclusive
2014

Coordinator's Touch: Star Force (July) Maple Ice & Burn (December)

2015

Giseungjeon12 (February) Reboot (June) Heroes of Maple (November)

2016
2017
2018

Black Mage (June) Adventure (December)

2019
2020

Mainly based on Korean MapleStory timeline and title
Community content is available under
CC-BY-SA
unless otherwise noted.