Roblox: DeepWoken - The Loop
Play Sound
Kain is a Nova Bowman who uses a Whispershot as a primary weapon and a Weapon Belt as a secondary weapon.
Story
Near Savage Terminal is the crime infested and damp Toolen City, regulated and enforced by an organization called the Drakas. One of the biggest crime organizations that cause havoc around the city was the Biters, led by Kudan.
The Drakas is an organization that takes the memories of its people to make them work for them by enforcing these regulations. Kain was a part of it and tends to be one of the most favorable operatives due to its Boss. He was doing this job for a couple of years and interviewed by Dr.Y several times upon his experience. During last year's interview, he expressed his thoughts on quitting after he gains his memories back.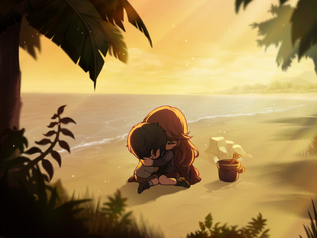 Present day, Kain was assigned on a mission to deal with the Biters. There seemed to be a conspiracy that the Biters are smuggling and stealing from the Drakas from a third-party. Upon eliminating them and completing the mission, he gets a call from the Boss to speak and have dinner with him tonight after his next mission. After receiving the call, he reports back to his Sergeant to receive a Malice Stone from a Regulator. Malice is the main source of the stone containing three primary characteristics: enhancing physical traits, bonding you with darkness, and loading your weapon. It's used as a weapon for the Drakas(paraphrased from the Regulator). After receiving the stone, Kain was assigned to subdue some of the Biters and report to the rooftop to find the culprits. After arriving, Kain finds two chameleon siblings: Romina and Royce. Stunned and confused, a flashback triggers on Kain's mind.
As this flashback occurred, that was the last of what he remembered: they vanished. The next day, Kain had already finished his meal with the Boss; yet he didn't know the exact details of what happened in there when explaining it to his coworkers. Nearby was a group of new members complaining about their memories; he was assigned to subdue their violence along with Tirag. After subduing them, Tirag questions about Kain's desire to quit and goes on a tangent on the idea of rebelling against the Drakas for tampering with their memories. Upon being questioned about Kain's encounter with the Boss, Kain refuses to speak and moves on with his day.
As he moves on to grab his equipment, he finds the Chameleon Siblings hiding in his locker. A Regulator approached as Kain immediately shuts the locker on them to advise Kain about his next mission, leaving them there. Heading off to start his mission, he began to ponder on why they were there, as he remembered they must've vanished before he could capture them. He needed to investigate on why. During his mission on subduing some Biters, he encountered a strange and suspicious crow. Upon encountering them, the crow immediately vanishes with an aura of Malice. Kain then finds a notebook the crow seemed to have dropped. The notebook seems to have research upon Malice Stones, written to be confidential Drakas information. There was notes stating the following: "The 'doctor' of the Drakas agents was overheard making a reference to 'the original'. What this might mean is also unknown". Kain's curiosity raises the inference that the Chameleon Siblings must've been trying to steal this original Malice Stone. While looking at the notes, however, an old lady by the name of Amos approaches Kain; thanking them for their service. She offered Kain to come to her shop. Amos asked Kain about him looking for the Chameleon Siblings and said that those two are hired stealers that work for food. She beckons for Kain to go easy on them since they are children. A Regulator interrupts their conversation and asked Kain why he left the designated zone. Kain responds saying he had a lead and gives the notebook over to the Regulator. Meanwhile, a group of people were spying on Kain from the rooftop, commenting that 'this changes everything'.
After the mission, Kain immediately goes to find his locker to see if the Chameleon Siblings are still there, but Tirag found his locker first. Turns out the locker was empty, leaving a treat behind. Kain questions to Tirag on why he was looking at Kain's locker, concluding that Tirag must've been looking for the notebook. Tirag must be planning a rebellion and shared his idea to his coworkers. He also tells Kain the Boss needs to see him.Before Kain shrugs off Tirag, Tirag comments once more to try and convince Kain to join him--telling that if they're able to tamper his memories--they would be able to tamper them again.
Gallery
Trivia
The name "카인 (Cain or Kain)" is likely derived from the Biblical Cain, who killed his brother Abel out of jealousy, which led to the punishment as the curse and mark of Cain in the Book of Genesis.

The name is also used for Cain of TalesRunner, which is a game developed by Rhaon Entertainment and published by Smilegate. Because Lara seems to be the motif of Lala in that game.
References
Characters and Skills
Class
Job and Skills (Click on icon for skills)
Beginner

Beginner Link Skills

Explorers
Warrior
Magician
Bowman
Special

Pathfinder

Thief
Special

Dual Blade

Pirate
Special
Cygnus Knights

Dawn Warrior Blaze Wizard Wind Archer Night Walker Thunder Breaker

Special

Mihile

Heroes
Resistance
Demon
Nova

Kaiser Angelic Buster Cadena Kain

Flora
Sengoku
Anima
Monster
Beast Tamer

Chase

Child of God

Zero

Kinesis

Kinesis

Wu Shen

Mo Xuan

Miscellaneous