Tynerum, the land of Demons, is the home to humanoid Demon race, where war and chaos rules. Help the Demon kids escape from the mighty Crimsonheart castle, where they held prisoners by vile forces, and then help them cleanse the Shadow Veil Forest from a curse casted by Hilla, corrupting the spirit tree known as Gollux and turning it into a monstrosity.
Click on a dot to view a map's page.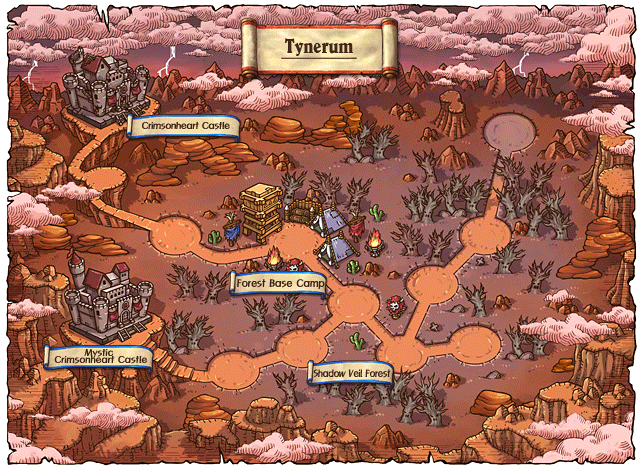 Trivia
Tynerum is called Masteria (마스테리아, Maseuteria) in KMS, and it's mentioned only during Demon's storyline and Crimsonheart Castle's questline.

Suspiciously, the whole area bears a strong resemblance to Masteria's Crimsonwood Mountain from GMS.

It was the land where the Demon, his brother Damien, and his family, used to live, before being exiled and moved to Minar Forest.
When it was released in GMS, it used to be, along with Commerci and Arboren, a part of a continent called Dawnveil. Dawnveil was accessible from the bottom part of Maple World's world map, and was assumed to be the "hidden" part of Maple World. However, Dawnveil's world map was removed during "Heroes of Maple" patch.
Other Maps
Continents

Amoria*
Arboren*

Tynerum*
Jianghu*
Theme Dungeons

The Afterlands*

Grand Athenaeum

Crimsonheart Castle

Commerci Republic*
Special Maps

Ardentmill
Free Market

Ereve Conference Room

Monster Park

Maple Tour
Evolution System

Spiegelmann's Guest House

Event Map
*World Map available
Trending pages
All items (2)
Community content is available under
CC-BY-SA
unless otherwise noted.