The Minar Forest is a vast open forest filled with extremely powerful monsters, it also includes a canyon with dragons and the legendary Cave of Life, where Horntail resides. It provides access to the Stone Colossus theme dungeon and Kritias.
In Minar's past, it was home to Onyx Dragons, powerful yet peaceful creatures. The Black Mage wanted the Onyx Dragons to help in his invasion of the Maple World, but the Onyx Dragons refused. In response, the Black Mage killed all the Onyx Dragons in the battle of Minar Forest, which was a great raid on the entire region. Afrien, the leader of the Onyx Dragons, left behind a last egg for a Silent Crusader who wandered into the past, and made sure it was safe in Victoria Island before dying.
Despite the extinction of the Onyx Dragons, many Halfingers in Leafre watch over dragon eggs and there are dragons in Minar's canyon, notably Horntail.
Click on a dot to view a map's page.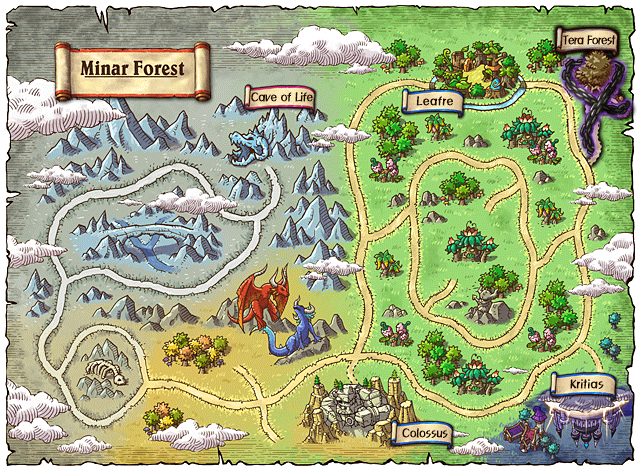 Trivia
Continental Naming Difference:
All items (5)
Community content is available under
CC-BY-SA
unless otherwise noted.