Lachelein is a mysterious festive city. As the Dreaming City, it is the location to challenge one of the strongest Black Mage commanders: Lucid, the queen of nightmares and the one responsible for the events at the Gate to the Future, who created this city of endless festivity to engulf the entire world with nightmares of her own creation. Defeating Lucid awards the players with the following level 200 Arcane Umbra equipment set: Weapons, Gloves, Boots, Capes. The minimum level requirement here is 220. 
Click on a dot to view a map's page.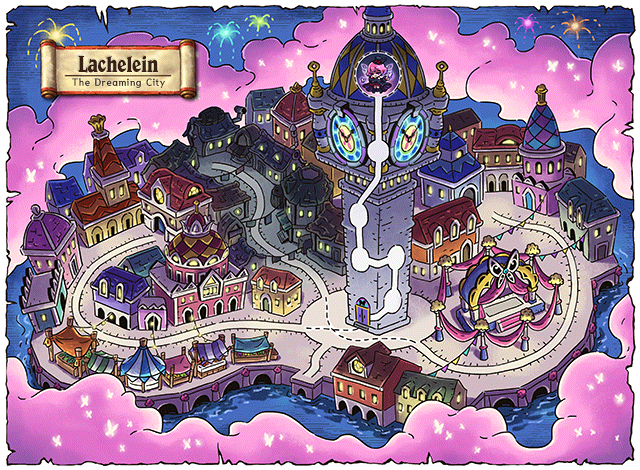 Trivia
Continental Naming Difference:

GMS: Lachelein the Dreaming City
JMS: 夢の都市レヘルン (Dream City Leheln, Yume no toshi Reherun)
CMS: 梦之都拉克兰 (Mèng zhī dū Lākèlán)
TMS: 夢之都拉契爾恩 (Dream City Leheln, Mèng zhī dū Lāqìěrēn)
MSEA: Dream City Lacheln

In non GMS servers, Lachelein is named Lacheln, which translates to smile in German.
Trending pages
All items (26)