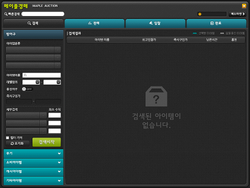 The Auction House was first introduced in RED. It is a function where players are able to auction off or place bids to purchase items. It features a Quick Search where the player is able to find items for sale by name as well as an Advanced Search where filters can help refine the search query.
2000 meso is deducted from the player when an item is put up for sale on top of a 5% transaction fee if an item is sold. There is a limit of 10 listings per account in any given world. Listings remain active for 24 hours. Before this time, the player may choose to reclaim any unsold items.
Note that as of KMS 1.2.287, the Auction House replaces the Free Market entirely, as the Free Market has been removed (minus the entrance).
Availability of Auction House